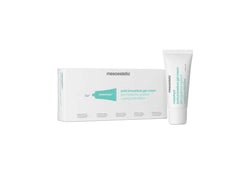 Mesoestetic Mesohyal Post-Procedure gel cream
Home cosmeceutical treatment specifically developed to enhance and prolong the antiaging effects of mesohyal™ facial treatments. A truly unique gel-cream hybrid for use topically post-cosmetic treatments, mesoestetic mesohyal post-procedure gel cream is chock-a-block full of hyaluronic acid to hydrate, plump and firm the skin while the anti-hyaluronidase agent prevents further hyaluronic acid degradation, leaving your skin feeling hydrated for longer.

Regenerates the skin and stimulates cell repair mechanisms. Firms the skin, increasing collagen synthesis. Increases HA and prevents its degradation. Protects against cell oxidation.
Indicated as coadjuvant treatment after the mesohyal™ intradermal therapy sessions, and at the end of treatment, to enhance and prolong the results.

Active Ingredients: 
Polynucleotides - Highly polymerised sodium deoxyribonucleate.
Pro-hyaluron system® _ An innovative complex with hyaluronic acid and an anti-hyaluronidase agent.
Pollutox® - Complex that combines a vegetal antioxidant extract and a protector polymer.

How to use: 
Apply approximately 2-3 ml on the intact skin of the face, neck and neckline. For intensive action, it is advisable to apply the product both morning and night.