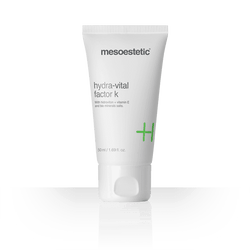 mesoestetic HYDRA-VITAL FACTOR K
Protect, hydrate, and revitalise dry skin with hydra-vital factor k from the skin care experts at Mesoestetic. Developed with ultra-dry and dehydrated skin types in mind, this emollient and rich face cream helps restore luminosity and smoothness to dry and damaged complexions. Experience a smoother, hydrated, and healthier look and feel with regular use.
This dual-action moisturiser first helps maintain the inner layer of the skin with a deep moisturising action. Then, hydra-vital factor k restores the hydro-lipid layer of the skin for ultimate hydration. This nourishing facial treatment also offers additional protection against environmental aggressors to neutralise free radical damage and keep skin youthful.

HOW TO USE:
Thoroughly cleanse skin with a non-drying facial wash.
Apply the moisturiser over the face and neck.
Concentrate on particularly dry and damaged areas.
Massage in genty and allow to absorb.
Finish by protecting skin with moisturising sun protection.
Use morning and evening for maximum benefits.
The highly moisturising ingredients in mesoestetic hydra-vital factor k have been carefully blended to suit dry, extremely dry, damaged, or dehydrated skin. This gentle formula is also perfect for sensitive skin or sensitive skin care conditions such as rosacea and eczema.