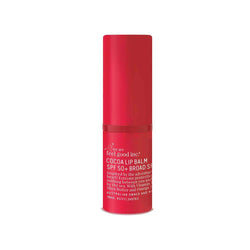 We are Feel Good Inc
We are Feel Good Inc Cocao Lip Balm SPF50
Inspired by the adventurous at heart!
Extreme protection so there's nothing between you and salty kisses by the sea. Enriched with Vitamin E, Cocoa Oil, Shea Butter and Omega 3, 6 & 9 for extra hydration and nourishment. Our Cocoa Lip Balm SPF 50+ is broad spectrum to give you maximum coverage and protect your lips from the harmful rays of the sun.
Free from PABAs, parabens, oxybenzone and octinoxate.
Australian owned and made.

Usage Instructions:
Apply lip balm spf 50+ liberally to lips. Avoid prolonged exposure in the sun. Wear protective clothing , hats and eyewear, and apply sunscreen when exposed to the sun.

Ingredients:
Actives: Homosalate 100 mg/g, Butyl Methoxydibenzoylmethane 40 mg/g, Octyl Salicylate 50 mg/g, Octocrylene 50 mg/g, 4-methylbenzylidene, Camphor 40 mg/g.
Other: Medium Chain triglycerides, White Beeswax, Candelilla Waxm Theobroma Oil, Castor Oil, d-alpha-tocopheryl Acetate, Shea Butter Oil Fixed, Parfum