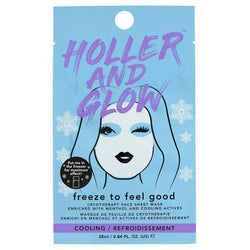 Holler and Glow - Freeze to Feel Good Sheet Mask
Cooling cyrotheraphy face sheet masl. Feeling so Cool! Get a cryotherapy facial at home with this cooling sheet mask. Formulated with menthol and pepermint oil that react and turn cold on the skin, it plumps firms and creates a natural glow. Pop it in the freezer for a extra cryo benefits!
Cooling sensation
Put in the freezer for maximum effect!
Directions for use: Put your mask in the freezer for 10 minutes. This is optional. Apply to cleansed skin. Cooling effect from 5 minutes leave on for 25- 30 mins.
Remove strips after 15 minutes 
Key Ingredients: Menthol and Pperpemint Oil, Hyaluronic Acid. 
Vegan & Cruelty Free