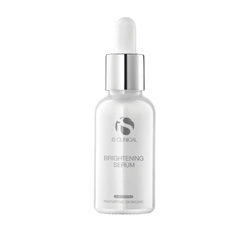 iS Clinical - Brightening Serum 30ml
BRIGHTENING SERUM - TARGETED BRIGHTENING, REVITALISING, FAST ACTING.

Same powerful formula, bright new name
Brightening Serum is a powerful formula that safely reduces the appearance of uneven skin tone, while providing significant controlled exfoliation without peeling. This lightweight and easily absorbed serum is excellent for overall coverage, or as a targeted boost for problem areas. Brightening Serum is a concentrated combination of potent botanical ingredients that visually address uneven skin tone on many levels, while providing multiple ageless benefits.
30 mL 
BENEFITS
• Safely brightens complexion
• Smooths and softens
• Gives the appearance of smaller pores
• Provides long-term visible improvements
• "Booster" provides intensive, targeted boost to diminish the appearance of uneven skin tone
• Hydroquinone-free
• Paraben-free
BRIGHTENING SERUM: KEY INGREDIENTS
Norwegian Kelp Extract
Diminishes the appearance of both new and existing areas of uneven skin tone while working to brighten the overall complexion
Bilberry Extract
A natural exfoliant with moisturising properties
Sugarcane Extract
Gently exfoliates the skin for a renewed complexion