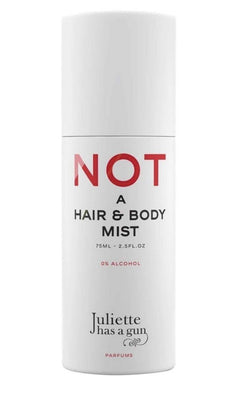 Juliette Has A Gun - NOT A HAIR & BODY MIST
Enjoy Not a perfumes Clean, Pure and Unique scent with this water-based hair and body mist. 
An antioxidant formula targeted to balance pH levels in hair & skin PH to restore the hair shine and bring a luminous skin complexion.
Juliette's iconic fragrance !
Juliette Has a Gun Not a Perfume is a musky amber, a clean and pure scent made up of a single note. Not a Perfume contains only Cetalox (also known as Ambroxan), a molecule that enhances other scents and works with your unique skin chemistry so that it smells different on every wearer. Slightly musky and sweet, Not a Perfume can be worn alone or layered with other fragrances to enhance their middle and base notes in particular. A soft sillage means this fragrance sits very close to the skin, and longevity can very from a short to long duration depending on the unique body chemistry of the wearer.