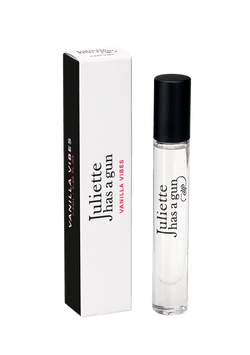 Juliette Has A Gun - Vanilla Vibes 7.5ml
The fusion of the two opposites: the warm Natural Vanilla and the fresh Sea Salt which transports the Vanilla into a mineral dimension Far from being overwhelming, the Vanilla becomes suddenly more atmospheric, more elegant
The expression of a sensual, powerful and free femininity. Vanilla Vibes, a hymn to Adventure and Freedom.

Enjoy the trip!
Fragnrance Family: Ambery Fresh
Top notes: Fleur de sel (Sea Salt)
Heart notes: Orchid Absolute, Natural Vanilla Absolute
Bottom notes: Brown Musk, Tonka Bean, Bezoin Absolute, Sandalwood Absolute