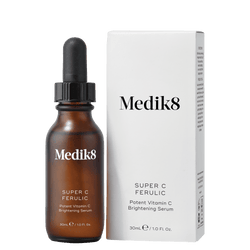 Medik8 C-Tetra® Super C Ferulic
Boost luminosity and fight visible signs of ageing with Super C Ferulic. This ultra-brightening serum is Medik8's most powerful vitamin C. The new name for Super C30™ Intense, same great formula.

This high-strength, high-performance vitamin C serum is ideal for those looking to blast pigmentation problems and deliver a hit of anti-ageing power. Ideal for those looking to step up their vitamin C game for maximum results.

Skin is noticeably supple with fine lines and wrinkles visibly diminished and skin texture refined.

KEY BENEFITS: 
Vitamin C
Discover Medik8's highest strength vitamin C serum, Super C Ferulic. Containing 30% vitamin C in a highly stable formula, plus ferulic acid, turmeric root and botanical oils to provide a noticeably younger-looking, more radiant complexion.
Fast Absorbing
The fast-absorbing serum provides beautiful anti-ageing results, as well as leaving skin looking supple and smooth. Kick-start your morning anti-ageing regime with this uplifting scented serum which won't ever lose its power.
Helps Prevent Premature Ageing
Harnessing the power of ultra-stable 30% ethylated ascorbic acid (vitamin C) plus skin-nourishing vitamin E, it fights environmental and sun-induced damage to help prevent the signs of premature ageing, plus smooth and brighten the complexion.
Supercharged Power
Vitamin C, vitamin E and ferulic acid are ultra-potent antioxidants in their own right, but when used together, they boost each other's antioxidant activity to unparallelled heights. The free radical-fighting trio work in synergy with skin to neutralise the effects of environmental aggressors such as pollution and sun damage.
Radiant Skin
The high-strength serum is fortified with brightening turmeric root to leave your complexion glowing and revitalised. The lightweight, dry-touch serum sinks in rapidly, leaving skin supple and protected from free radical damage.

HOW IT WORKS: 

High strength and exceptionally stable, Super C Ferulic uses an incredible vitamin C derivative called ethylated ascorbic acid. Traditionally, vitamin C serums have been extremely unstable, turning yellow just a few weeks after being opened, which is an indication of lost potency.

1. Ethylated ascorbic acidproduces the same superior antioxidant protection as conventional vitamin C serums without any of the stability issues.

2. Ferulic acid supercharges the antioxidant potential of the serum by helping to regenerate vitamin C while blocking free radical damage. Alongside vitamin E  they produce synergistic results for the ultimate antioxidant protection.

3. Turmeric Extract promotes a bright, even skin tone by blocking the enzyme which produces melanin in the skin for a luminous complexion. The natural extract works with vitamin C to provide exceptional antioxidant protection throughout the day.


HOW TO USE: 

1. After cleansing in the morning, massage 4 drops of Super C Ferulic across the face, neck and décolletage.
2. Leave to absorb before applying moisturiser.
Patch testing prior to use is advised.

The best
Honestly the best vitamin c iv used, yes it's pricey but you see result and it feels amazing on the skin. I have tried A LOT of c serums and this is my ride or die!!