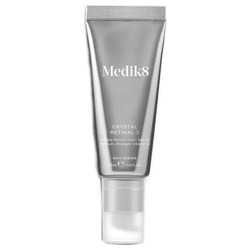 A medium strength retinal for those who have used retinol before, or a starting point for those without sensitive skin.
If you're looking to fight all signs of aging, then the Medik8 Crystal Retinal 3 is your answer.
Reduce the appearance of fine lines and wrinkles, improve skin tone and refine skin texture with this powerful facial treatment. Thanks to its technologically advanced formula, Medik8 Crystal Retinal 3 resurfaces skin, helping to boost collagen to help reveal a radiant, youthful complexion. By using this advanced Vitamin A treatment, skin is left soft and smooth, while fine lines and wrinkles are dramatically reduced, and your overall skin tone is improved. The Medik8 Crystal Retinal 3 is starting point for normal skin in the Medik8 Crystal Retinal line, or the next step up from users of Crystal Retinal .
What are the features and benefits of the Medik8 Crystal Retinal 3?
A medium strength retinal serum
A good starting point for non-sensitive skin types
The next step up from Crystal Retinal 1 for sensitive skin types
Reduce the appearance of fine lines and wrinkles in just 4 weeks*
Works 11x faster than classic forms of retinol
Resurfaces skin texture, reducing the appearance of fine lines and wrinkles
Improves skin tone
Increases collagen production
Hydrates skin to help visibly plump and smooth skin
Reduces breakouts by banishing bacteria
Innovative crystal encapsulation system that slowly releases retinaldehyde into the skin for minimal irritation
Lightweight, creamy formula
Suitable for all skin types
Only use in the evening
Available in four strengths: Crystal Retinal 1 (gentle Vitamin A for sensitive skin or new to retinol), Crystal Crystal 3 (medium strength Vitamin A), Retinal 6 (high strength Vitamin A) and Crystal Retinal 10 (ultra-strength Vitamin A)
30ml
*In a study of 20 people using Crystal Retinal 6 over 4 weeks
This potent overnight serum has the power to deliver salon-worthy results from the comfort of your own home. The lightweight texture of this anti-aging serum absorbs instantly into skin and should only be used in the evening before a moisturiser and after cleansing.
What makes Crystal Retinal Important: 

From the experts in Vitamin A, Medik8 have developed Retinal, which acts faster than classic forms of Retinol. Retinal is the closest Vitamin A molecule to Retinoic Acid. Unlike retinol, which must first be converted to retinaldehyde and then to Retinoic Acid (vitamin A's active form) within the skin, Crystal Retinal requires just one conversion to Retinoic Acid. This formula has placed the Retinal in a Crystal Encapsulation System that works to slowly release the retinaldehyde into the skin, reducing possible irritation.