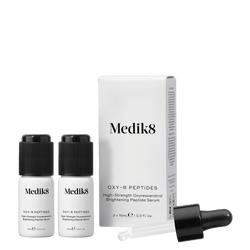 MEDIK8 Oxy-R Peptides 2x10ml
HOW IT WORKS:
Oxy-R Peptides harnesses the powers of gold-standard brightening agent oxyresveratrol, at a previously untouched concentration of 1%. A gentle yet powerful antioxidant, Oxy-R is used in skincare to target areas of hyperpigmentation, dark spots and post-inflammatory pigmentation. Found to be 33x times more effective than kojic acid[1], it works by helping to block the enzyme tyrosinase from functioning - the key enzyme responsible for forming pigment in the skin.

While exceptionally powerful, Oxy-R is an incredibly unstable ingredient. With yet another one-of-a-kind stability innovation, Medik8 have carefully curated a patented system to yield the unique benefits of ultra-high strength stabilised oxyresveratrol. Keeping the 1% Oxy-R stored in a preservation serum in the lid to protect its potency, Oxy-R Peptides uses Click-Activated packaging technology to ensure the formula remains stable from activation to final drop.

Oxy-R Peptides offers a triple-threat to hyperpigmentation, with twin brightening peptides working alongside Oxy-R to improve the visible tone of the skin. Tetrapeptide-30 works to help block the overproduction of pigment that can lead to visible discolourations and uneven skin tone, while acetyl glycyl beta-alanine works to help stop localised areas of pigment from appearing on the skin.


KEY BENEFITS:

Incredible Brightening Results: The silky formula works to address uneven skin tone, delivering results in as little as 7 days*.
Medik8 Patented Oxy-R Technology: Medik8 have crafted a unique, 360° approach to keeping this incredibly high level of notoriously unstable Oxy-R potent from the first till the last use.
Triple-Threat to Hyperpigmentation: Featuring two brightening twin peptides, which boost the action of Oxy-R.
Compliments any CSA Routine: Oxy-R Peptides can be used morning and night, to enhance the overall brightening benefits of vitamin C, sunscreen and vitamin A products.
Hydration Booster: The hydrating serum absorbs instantly and is non-greasy, with a silky finish on the skin.

HOW TO USE: 
Before the first use, press down firmly on the bottle lid until it clicks and shake for 30 seconds to activate. Recycle the lid and replace with the dropper. After cleansing in the morning and evening, blend 6 drops across face, neck and décolletage, avoiding the eye area. Leave to absorb before applying additional products.
Oxyresveratrol is naturally brown once active in water - so once the packaging has been 'click-activated' and the Oxy-R is plunged into the water-based solution, the serum will become a deep brown colour.
Oxy-R Peptides is provided in 2x10mL bottles. Each bottle will stay potent for 6 weeks after opening. Activate the second bottle after finishing the first bottle.
KEY INGREDIENTS: 
1% Oxyresveratrol (Oxy-R) - One of the most powerful skin brightening agents available in skincare, which is naturally derived from the mulberry family. It helps to block the action of tyrosinase, to transform dull, uneven skin tones.
Tetrapeptide-30 - An illuminating peptide that helps to minimise the production of tyrosinase, to block the overproduction of melanin.
Acetyl Glycyl Beta-Alanine - A brightening peptide solution that works to help block the transport of melanin to the skin cell, where the overproduction of pigment becomes visible on the skin.
Hyaluronic acid - With a unique ability to attract and retain more than 1,000 times its own weight in water, hyaluronic acid draws moisture from the surrounding atmosphere into the skin, leaving the complexion feeling both nourished and supple.

FULL INGREDIENT LIST: 
Aqua (Water), Butylene Glycol, Artocarpus Lakoocha Wood Extract, Gluconolactone, Acetyl Glycyl Beta-Alanine, Glycerin, Lactic Acid, Sodium Benzoate, Disodium Edta, Sodium Hyaluronate, Xanthan Gum, Calcium Gluconate, Sodium Metabisulfite, Tetrapeptide-30, Hydroxyresveratrol