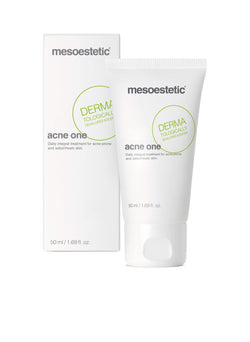 Cream for daily use designed for optimal control of skin types prone to acne and seborrhea. The unique association of complementary and synergistic ingredients of m.acne complex™ simultaneously stimulates exfoliation of the pilosebaceous canal, reduces sebum production, controls bacterial proliferation and lessens redness.
How to Use:
Apply a fine, even layer of acne one once or twice a day on cleansed skin, avoiding the eye contour and contact with mucus membranes. Subsequent application of dermatological sun protection SPF50+ is recommended in the case of exposure to solar radiation.
Ingredients: 
Bexaretinyl complex-
Exfoliating retinoid that boosts cell renewal while simultaneously possessing depigmenting properties that mitigate post-inflammatory acne-related hyperpigmentation.
Serenoa repens-
Regulates excess androgen by inhibiting 5α-reductase