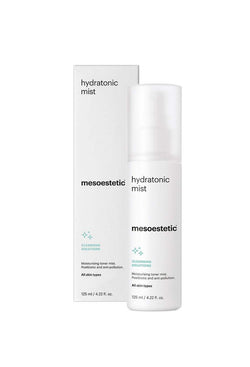 Mesoestetic Hydratonic Mist
Balancing, anti-pollution, moisturising facial mist toner. Completes facial hygiene and potentiates the balance of the skin microbiota. All types of skin.
A post-biotic active ingredient, Lactobacillus Ferment, obtained from fermentation of a bacterium, enhances the balance of the microbiota to strengthen and preserve the skin barrier function in optimum conditions.
Each formula has a slightly acid pH that preserves balance and keeps the skin protected from unwanted pathogenic micro-organisms.
A biotechnological active ingredient, Urban D-tox, offers a dual action on the effects of pollution on the skin: jointly removing the particulate pollutants and reducing oxidative stress known to speed up skin aging. Suitable for all skin types. 
How to Use: 
After cleansing , spray over the face at about 15-20 cm. Remove using a cotton pad or tissue.

Ingredients: 
Aqua, Rosa centifolia Flower Water, Propylene Glycol, Glycerin, Panthenol, Carrageenan, Disodium EDTA, Cucumis sativus Fruit Extract, Allantoin, Hamamelis virginiana Leaf Extract, Phenoxyethanol, Ethylhexylglycerin, Potassium Sorbate.