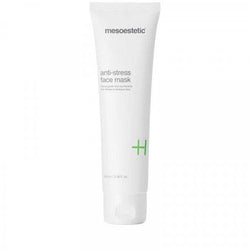 mesoestetic Anti-stress Face Mask
Mesoestetic anti-stress face mask is a soothing, repairing face mask nfor all types of skin, even the most sensitive. Ideal for post-treatment or the most sensitised of skins, it combats the effect of oxidising stress thanks to its emulsifying, re-epithelisation action, meaning that it restores the skin.
mesoestetic anti-stress face mask complex formulation gives it decongestant, anti-inflammatory, antl-erythematous (anti-redness), anti-oedatous (anti-swelling) and antioxidant properties.
SOOTHING, ANTI-INFLAMMATORY, ANTI-REDNESS
With Rhodosorus marinus extract and saffron flower, that act on the signs of the inflammatory condition, skin sensitivity and redness. A soothing plant complex combining Aloe vera, chamomile and marigold, with regenerating, soothing and smoothing action.
BIO-BALANCING ACTION
A post-biotic active ingredient, Lactobacillus Ferment, obtained from fermentation of a bacterium, enhances the balance of the microbiota to strengthen and preserve the skin barrier function in optimum conditions. Each formula has a slightly acid pH that preserves balance and keeps the skin protected from unwanted pathogenic micro-organisms.
ANTI-POLLUTION ACTION
A biotechnological active ingredient, Urban D-tox, offers a dual action on the effects of pollution on the skin: jointly removing the particulate pollutants and reducing oxidative stress known to speed up skin aging.


1 or 2 times a week
Apply a large layer of product over the previously clean, dry skin and leave on for 10-15'.
Remove the remaining product with a sponge or wet wipe.