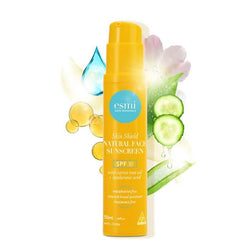 Esmi Skin Shield Natural Face Sunscreen SPF 30
Broad-spectrum SPF 30 enriched with antioxidant protection, this silky smooth, daily sunscreen protects against UV damage and fights the first signs of ageing.
Comfortable, non-greasy SPF coverage for all skin types, especially sensitive skin. Skin Shield Natural Face Sunscreen is easy-to-apply and formulated with additional anti-ageing benefits of carrot root oil, hyaluronic acid, and green tea for hydrated, smoother skin.

- Broad-spectrum SPF 30 UVA and UVB protection
- Anti-ageing benefits with carrot root oil
- Non- greasy, no chalky residue
- Ideal for all skin types
- Hyaluronic acid hydrates and plumps skin
- Ideal under makeup
- Non-acnegenic - free from pore-clogging ingredients

Your daily line of defence against UVA and UVB rays, Skin Shield Natural Face Sunscreen blends effortlessly to provide maximum coverage without chalky residue while vitamins and antioxidants promote youthful, hydrated skin.
High in vitamin E, vitamin A and carotenes, carrot root oil tones and tightens skin and teams up with the anti-ageing properties of rosehip extract to improve the look of fine lines while preventing and reversing sun damage. 
Hyaluronic acid is a water magnet, attracting water to skin cells for hydration from the inside out while the addition of green tea helps neutralise skin-damaging free radicals in the environment.  
The vitamin C and caffeic acid in cucumber deliver an antioxidant boost while calming inflamed and irritated skin.
Non-acnegenic, Skin Shield Natural Face Sunscreen won't trigger breakouts. Its non-irritating, fragrance free formula makes it ideal for all skin types, especially sensitive skin.

Treat and Protect your skin with:
CARROT ROOT OIL - Contains antioxidants which assist to protect against premature ageing
GREEN TEA - Contains a powerful antioxidant EGCG known to assist UV damage
CUCUMBER - Contains Vitamin C + Caffeic acid which assists to soothe the skin
HYALURONIC ACID - For a boost of hydration
UVA/UVB Broad Spectrum
Fragrance-free

Size: 50mL

What is the scent like?
Your esmi Skin Shield scent is a Natural sunscreen with no added fragrance or essential oils, making it suitable for really sensitive and reactive skin. Leaving a softer imprint on your body and our ocean. The scent is a composition of the natural ingredients it contains.
Why not waterproof?
Your esmi Skin Shield is Vegan and reef safe, to follow esmi ethics and beliefs there is not a sunscreen that meets this criteria that is both Vegan and reef safe.
Why is it yellow?
We have included Carrot root oil in your Skin Shield. This is a natural ingredient and as such will reduce in intensity over time and after exposure to air. Don't worry it will still deliver its function.
Will it leave my skin oily?
The esmi Skin Shield will not leave your skin oily. If you have an oily skin you can opt to use the Skin Shield as a moisturiser. Always keeping an eye on your skin to ensure you are feeding it enough moisture for which we can recommend some lighter facial oils
/skin mylcks
suited to oily skin.
What are the ingredients in the Skin Shield?
Actives:
Zinc Oxide [21.5% w/w]
How to use: 
Shake well before use. Apply lotion liberally, allow to absorb at least 20 minutes before sun exposure.
Ideal for use under makeup pair SPF Skin Shield with Liquid Mineral Foundation for a flawless finish.  Reapply every 2 hours and more frequently when swimming, exercising or wiping your face. This product is not water-resistant, Be sun smart and avoid excessive UV exposure.
Specialty Bottle
Our bottles are a little different to the traditional pump/straw bottles. They use an air pump which uses air pressure to dispense the sunscreen. There are 2 small holes on the bottom of the bottle, if you hold your finger over these holes and pump - this will build up pressure inside the bottle.
 50ml
Ingredients:
Aqua, Isoamyl Laurate (plant based ester), Sorbitan Stearate (humectant), Sucrose Cocoate (emulsifier from coconut), Hydroxypropyl Starch Phosphate (sugar emulsifier), Xanthan Gum, Carthamus Tinctorius Seed Oil (Safflower), Cucumis Sativus Fruit Extract (Cucumber), Glycerin, Camellia Sinensis Leaf Extract (Camellia), Rosa Canina Fruit Oil (Rosehip), Caprylic/capric Triglyceride, Glyceryl Isostearate (emollient), Polyhydroxystearic Acid (emulsifier), Cetearyl Alcohol (plant derived), Cetearyl Glucoside (stabiliser), Aloe Barbadensis Leaf Juice (Aloe Vera), Caprylyl Glycol, Phenethyl Alcohol, Glycine Soja Oil (soybean GF), Daucus Carota Sativa Root Extract (Carrot Root), Beta-Carotene, Tocopherol (Vitamin E), Sodium Hyaluronate (hydrating).