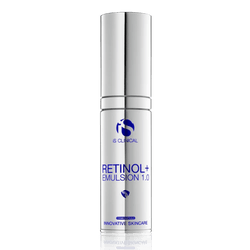 iS Clinical - RETINOL+ EMULSION 0.3
More than just a retinol!
This highly active, fast-acting Retinol+ Emulsion 0.3 is a resurfacing formula featuring a Retinol of botanical origin that is encapsulated with bio-identical lipids, providing easy delivery to the skin while improving its resilience and overall long-term condition.
Reduce the appearance of fine lines and deep wrinkles
Diminish the appearance of uneven skin tone, rough texture, and blemishes
Protect from environmental stressors with Extremozyme® technology
Smooth, soften, and brighten complexion
Increase the appearance of skin firmness and elasticity
Botanical boosters enhance performance
Highly active, fast-acting formulas
For normal, oily, dry, or combination skin
Provide antioxidant protection to defend against oxidative stressors
HOW TO USE
To help with acclimation apply 2-3 pumps per use to cover the face, neck, and decollate, every 3rd evening, avoiding the eye area, for 3 weeks, then if well tolerated, apply every 2nd evening, or as directed by your skincare professional.
Please note: Retinol+ Emulsion 1.0 is a professional-strength formula recommended for use only as advised by a licensed professional and requires a consultaiton in clinic with out skin health expert to purchase.