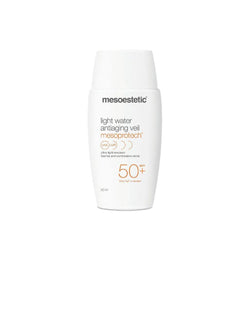 Mesoestetic Mesoprotech Light Water Anti-Aging Veil SPF 50+
Normal and combination skins. Ultra-light antiaging emulsion offering very high factor sunscreen action. This product contains low molecular weight hyaluronic acid to enhance and maintain natural skin hydration and tissue elasticity and firmness. A fresh, immediate absorption texture that forms an invisible protective film on the skin.
Apply the recommended amount

 

(2 mg/cm2 of skin) half an hour before sun exposure to clean, dry skin.
Reducing this dose of cream significantly reduces the level of sun protection. Reapply every two hours when exposed to direct sunlight and especially after drying yourself with a towel, swimming or perspiring.
Repeating the application is essential to maintain the level of protection and effectiveness

 

of the treatment.
When exposed to direct sunlight, wear sunglasses and a sun hat and avoid the midday hours, which is when solar radiation is most intense (11 a.m. - 4 p.m.). Topical use.
Avoid direct contact with the eyes and mucous membranes.
In the event of contact, rinse with plenty of water.
Do not apply to open wounds and/or in cases of acutely sensitive skin.
Keep out of the reach of children.
Store in a cool and dry place.
Fantastic sunscreen
Amazing protection from the sun and lovely feel on the skin. Perfect for all day and any conditions!
Thank you Sally for your review! We are so happy to hear you are happy with the Mesoestetic Light Water Veil. Team CC xx