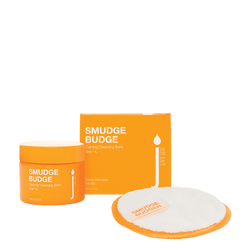 Skin Juice Smudge Budge Cleaning Balm
For all skin types, including sensitivity. The fragile area around the eyes can be easily prone to damage and requires the gentle, protective cleansing offered by Smudge Budge. 50ml. 
This unique and natural cleansing balm is a 3 in 1 for the face, eyes and lips. Organic oils and butters melt when massaged onto the face, dissolving stubborn makeup while deeply cleansing pores and removing damaging daily toxins without irritating or drying the skin.
Lusciously smooth in texture, Smudge Budge is full of nourishing moisture and provides the skin extra hydration protection. This cleansing balm is unlike any other, absorbing nutrients into the skin, leaving it feeling soft, clean and fresh.
Not suitable to use with false lashes.
Gently removes all traces of makeup, including waterproof mascara, from the face and eyes.
Antioxidant and vitamin rich juices from berries, tomato and pumpkin feed the skin to restore a healthy dewy glow. These carotenoid antioxidants have been clinically proven to fight against free radical damage.
Organic coconut oil and sweet fennel help fight off bacterial infections to protect the skin against breakouts and congestion.
Soothing cucumber and moisturising fatty acids from mango butter soothe and calm irritation and sensitivity.
Natural vegetable (non palm oil) emulsifiers mean this silky cleansing balm easily washes away with water and face cloth or sponge.
Feeds the skin a healthy diet of skin healing essential fatty acid rich pumpkin, carrot and pomegranates.