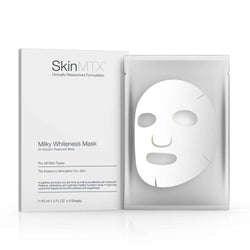 Skin MTX Milky Luminous Mask 5pk
Boost Cell Renewal to Lighten and Illuminate Skin.
The ultimate solution for dull and lackluster skin, the Milky Whiteness Infusion Treatment Mask fits perfectly to facial contours to renew skin's youthful translucence. At the core of the formula stands excellent lightening active, Lactic Acid which gently accelerates skin's natural exfoliation process. This formula removes dead surface build-up and promotes fresh skin renewal; lifting away dullness and working to balance the color and tone of the complexion. Intensive hydrating actives enrich the formula while boosting overall softness and suppleness. Your skin is refined and revitalized and looks brilliantly brightened as if illuminated from within.
Lightens and evens out skin tone and accelerates skin renewal
Restores, replenishes and optimizes healthy hydration levels
Improves overall skin texture and boosts softness and suppleness
How to use: Leave the mask on for 15 minutes before removing. Remove the mask and gently massage to assist absorption. Wipe off any remaining essence. Do not recycle used mask.
Ingredients: Aqua / Water, Propylene Glycol, Ethylhexylglycerin, Polysorbate 20, Sodium Hyaluronate, Titanium Dioxide, Sodium PCA, Lactic Acid, Phenoxyethanol, Betaine, Parfum/ Fragrance, Triethylene Glycol, Glycerin, Allantoin, Bacillus Ferment.