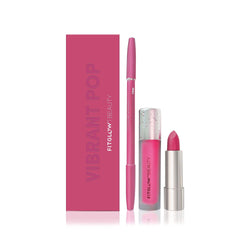 Fitglow Beauty
Fitglow Beauty Ultimate Lip Lover Kit - Vibrant Pop
An ultra long-wearing, super hydrating lip trio featuring the fan-favourite Lip Colour Serum and Lip Colour Cream Lipstick, and the brand new Vegan Lip Liner. This exclusive and limited edition trio collection will help perfect your pout with plant active ingredients for smooth, plump and hydrating lips.
Vibrant Pop Kit includes: Lip Colour Serum "Liv", Vegan Lip Liner "Pop"*Limited Edition*, Lip Colour Cream "Cheer" 
Kit is Valude at: $162.00
The Ultimate Lip Lovers Kit is available in three different trio sets.  

 Perfect your pout with plant active ingredients
Creamy vegan lip liner to fill or line your lips for all day colour
Award-winning Lip Colour Serum formula certified clean by Think Dirty
The perfect trio for smooth, plump and hydrating lips