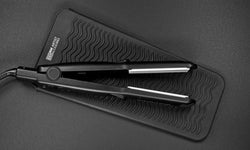 BM Artist Lashes Heat Pouch
This heat pouch is a game changer! Fantastic for travel, home, studio or salon.
No need to wrap your hot hair irons or hair tools in a towel anymore when you're on the go.
Designed to take up to 250 degree heat, simply place hot tools in pouch and run!
Also doubles up as a heat mat so no more burnt benches or trolleys.
Silicone /rubber