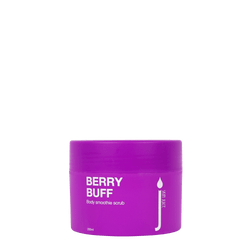 Skin Juice Berry Buff Exfoliator
This detoxifying creamy superfood smoothie deeply exfoliates the body using potent, natural fruit acids and crushed walnuts, while preparing the skin for intense hydration. Dead, dry skin cells are polished away leaving the skin smoother with a bright and glowing complexion. 
Antioxidant dense nutrients from cranberry. raspberry, beetroot, macqui and goji berries will help to neutralise free radicals to maintain healthier and younger-looking skin.
Using a dual exfoliating action, using lactic acid to gently break down dry skin while crushed walnuts physically lifts them away, leaving smooth and silky skin.
The skin won't be left feeling stripped or dry as nourishing almond oil will keep the skin hydrated and moisturised after exfoliating.
Size: 200ml.